~ 900 km / 9 days (4day´s off) (deutsch unten)
On Wednesday the 3rd of June I started my first tour with my new cargo bike. The goal was a visit to the workshop of Velo Lab and the pick up of something fairly sailed "Slokoffie".
My first day led me across North Rhine-Westphalia through Mettmann – Oberbarmen – Hagen to Schwerte on the river "Ruhr". I spent the first night there. The next morning I started towards Detmold or Bad Oyenhausen. There I met a friend who accompanied me to the Weser. I drove past Minden that day, along the Weser, and put up the tent very late. It rained a little more the next day (3) and I was glad that I got help at the first lock of the Weser at the steps. Alone I would have made it difficult or not at all. Anyway, I continued to cycle down the Weser, sometimes on the left, sometimes on the right, and orientated myself on the bike path signs. I then drove via Drakenburg to Dörverden, which is about 40 km from Bremen, and stopped at 1 p.m. I had met a local resident there who recommended a beautiful place on the Weser and I decided to enjoy the sun that had now appeared. I spent a nice day there and drove the remaining kilometers via Verden and Achim to Bremen on Saturday (day 4).
I spent Saturday and Sunday visiting friends and on Monday I said "Hello" at Velo Lab in Bremen at Lesum. There was a bike check on the program and I got a little upgrade with the aluminum box.
On Tuesday, June 9th, 20, I made my way back fully loaded (15 kg slokoffie plus my stuff). We only started cycling around half past eleven and Thomas von Slokoffie accompanied me a bit along the "Ochtum" (river) out of Bremen. On this day I drove past Bramsche to the Dortmund Ems Canal, where I also stayed a bit apart (of course again in the tent).
On day 2 of the return trip I cycled through the beautiful Münsterland and made so good progress that I was in Wesel am Rhein around 3 p.m., that surprised me and I would only have had about 60 km to Mönchengladbach. However, I decided to buy a few beers and look for a nice place on the Rhine. I did that and enjoyed this afternoon in particular :). The swim and wash was good and the view was wonderful.
On Thursday, June 11th, 20 I only said goodbye to the beautiful spot around 10 a.m. and cycled via Krefeld the direct route to Mönchengladbach. Once there, I delivered the slokoffie in Cafe Kosmo and have been thinking about what I will do next 😛

Anyway, I'm very happy about my new bike, thanks to Velo Lab for the support and corn, and Slokoffie for the energy.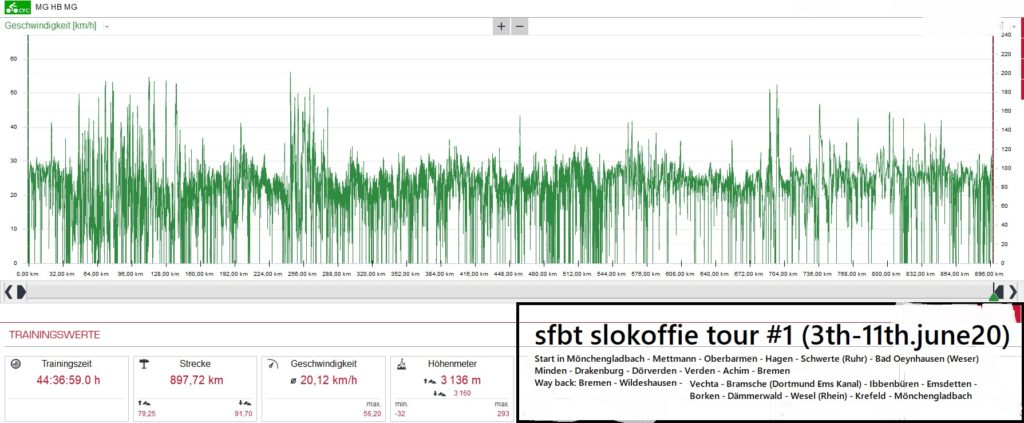 Am Mittwoch den 3.6.20 startete ich meine erste Tour mit meinem neuen Lastenrad. Ziel war ein Besuch in der Werkstatt von Velo Lab und die Abholung von etwas fair gesegeltem "Slokoffie".
Mein erster Tag führte mich quer durch Nordrheinwestfahlen über Mettmann – Oberbarmen – Hagen nach Schwerte an den Fluß "Ruhr". Dort verbrachte ich die erste Nacht. Am nächsten Morgen startete ich Richtung Detmold beziehungsweise Bad Oyenhausen. Dort traf ich einen Freund der mich noch an die Weser begleitete. Ich fuhr an dem Tag noch an Minden vorbei, die Weser entlang und baute erst sehr spät das Zelt auf. Es regnete etwas mehr am kommenden Tag (3) und ich war froh das ich an der ersten Schleuse der Weser hilfe bei den Stufen bekommen habe. Alleine hätte ich es nur schwer oder garnicht geschafft. Jedenfalls radelte ich weiter die Weser hinunter mal auf der linken, mal auf der rechten Seite und orientierte mich an der Radwegschildern. Über Drakenburg fuhr ich dann bis Dörverden, das ist etwa 40 km vor Bremen, und hörte schon um 13 Uhr auf. Ich hatte dort einen Anwohner getroffen, der hat mir einen wunderschönen Platz an der Weser empfohlen und ich beschloss die Sonne, die inzwischen aufgetaucht war zu genießen. Dort verbrachte ich einen schönen Tag und fuhr am Samstag (Tag 4) die restlichen Kilometer über Verden und Achim nach Bremen.
Den Samstag und Sonntag verbrachte ich damit Freunde zu besuchen und am Montag habe ich bei Velo Lab in Bremen an der Lesum "Hallo gesagt" . Dort stand ein Bike Check auf dem Program und ich bekahm noch ein kleines Upgrade mit der Alu Box.
Am Dienstag den 9.6.20 machte ich mich dann voll beladen (15 kg Slokoffie plus meinen Stuff) auf den Rückweg. Wir sind erst gegen halb 11 losgeradelt und Thomas von Slokoffie begleitete mich noch ein Stück die "Ochtum" (Fluss) entlang raus aus Bremen. An diesem Tag fuhr ich bis hinter Bramsche an den Dortmund Ems Kanal, wo ich auch etwas abseits übernachtete (natürlich wieder im Zelt).
Am Tag 2 der Rückreise bin ich durch das schöne Münsterland geradelt und so gut vorran gekommen, das ich schon gegen 15 Uhr in Wesel am Rhein war, das hatte mich selbst überrascht und ich hätte nur noch etwa 60 km bis nach Mönchengladbach gehabt. Allerdings habe ich beschlossen mir ein paar Bier zu kaufen und mir eine schöne Stelle am Rhein zu suchen. Das habe ich auch getan und insbesondere diesen Nachmittag sehr genossen 🙂 . Das schwimmen und sich waschen hat gut getan und die Aussicht war wundervoll.
Am Donnerstag den 11.6.20 habe ich mich dann auch erst gegen 10 Uhr von der schönen Stelle verabschiedet und bin über Krefeld die direkte Route nach Mönchengladbach geradelt. Dort angekommen lieferte ich noch feierlich den Slokoffie im Cafe Kosmo ab und denke seit dem darüber nach was ich als nächstes anstelle 😛
Jedenfalls bin ich sehr froh über mein neues Rad, danke Velo Lab für den Support und Füllkorn sowie Slokoffie für die Energy.